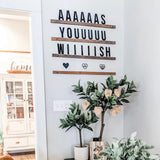 Marquee Sticks
All the fun of our classic marquee boards, now with more flexibility! Our new marquee sticks were made to fit perfectly in any space in your home. 
Sticks available in three sizes: Small (24") Medium (36") and Large (42") and your choice of black, white or stain finish
**Sold individually**
Don't forget to grab some letters!
*Letters not included*